Dudes! Dudettes! Peoples!
You
have to
check out Boar's Head Premium Delicatessen!
It is awesomely delicious! I will bet you money that you love it, if you love freshly made sandwiches!
Waaaaay
better than Subway!
Chester here, Checking In With The Charlestons from the Boar's Head on the CSUEB campus! Dudes, seriously, I had
the
BEST
sandwich I have
eveeeeer
had, especially for on a school campus, you feel me peeps?!? My sandwich was soooooo ENORMOUS that I couldn't even fit my whole mouth around it, and let me tell you guys, I have a pretty BIG mouth!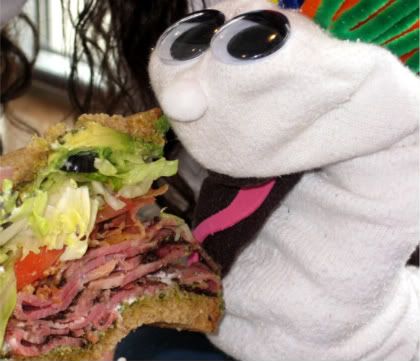 My sandwich was pastrami with lettuce, tomato, bacon, tomato basil pesto, mayo, avocado, and olives all on a whole wheat bread...you gotta stay healthy and fit for the ladies, you feel me? Dudes, seriously, the BEST sandwich ever! I am not joshin' ya here folks, you gotta try it! If you go there and don't like what you order, I will personally buy your next meal from any dining place on the Cal State East Bay campus. Take my word for it and go try it out, you won't regret it! I am a tellin' ya!!